【Up to 50% off!】Up to 50% off HafH's subscription accommodation service for the month of June!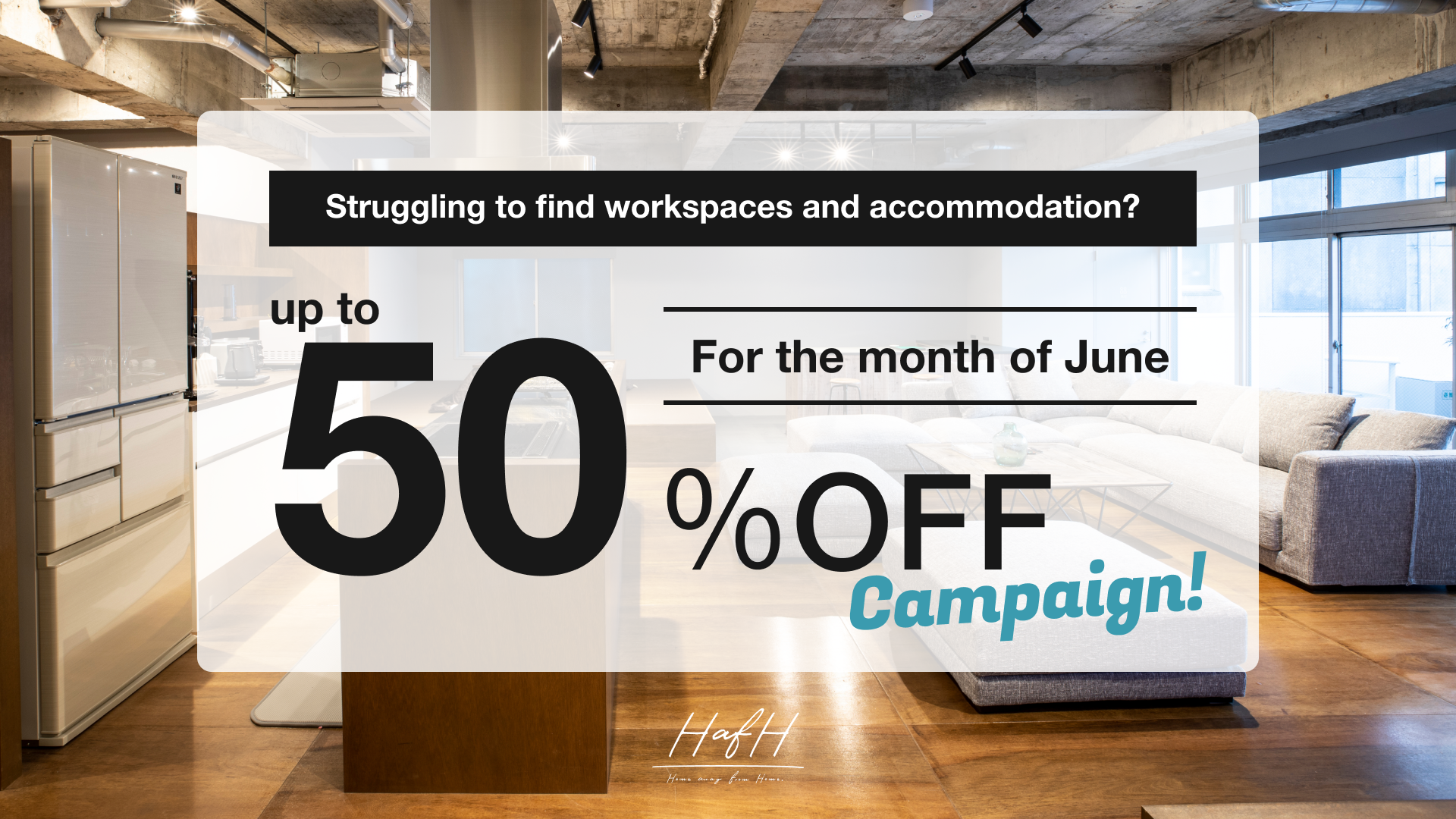 In light of the current situation, HafH will be offering up to 50% off our subscription service for those wanting to continue remote work in its original form, (that is, not being location-dependent when it comes to working). This is the first time we've ever offered such a discount!
By taking advantage of this campaign, you can use our global network of guesthouses and hotels, located in 160 cities at a reduced price for the month of June. Pay ¥41,000 to use HafH every day of the month, ¥19,200 and stay for up to 10 days a month, or ¥11,200 to stay at HafH for up to 5 days a month (tax included). As long as you have signed up to HafH by 11:59pm on May 31, 2020, you are eligible for this discount.
HafH wants to help support those taking on the challenge of working remotely (in its original meaning of location-independent working), and is continuing to help create a society where diverse lifestyles and work styles are accepted and encouraged.
Campaign Details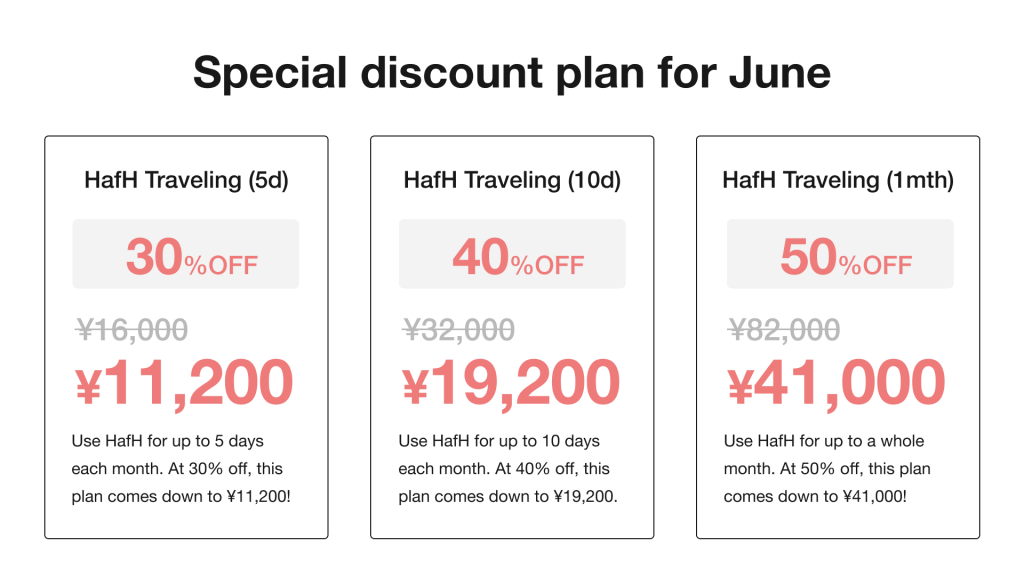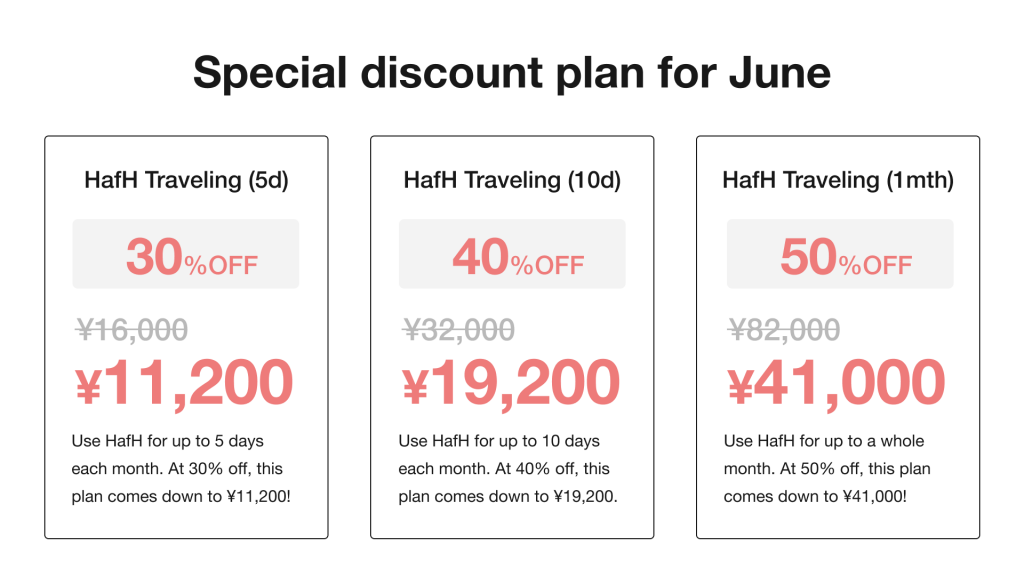 Anyone who signs up for one of the above HafH plans during May (2020) is eligible for the June membership discount.

・For new members
New members who sign up to HafH in May (2020) on one of the aforementioned HafH plans will receive a discount on their plan for the month of June. Furthermore, you don't pay anything for the month you sign up in, so you can use HafH for free for the rest of May.

・For already existing members
If you're on any of the eligible HafH plans, you can receive also receive up to 50% off your membership for the month of June.
※Please note: When you first sign up for a paid HafH plan, you won't pay anything until the first day of the following month (e.g. sign up May 19th, make your first payment June 1st). However, you are unable to cancel your membership or move to a HafH plan of lesser value within the registration month or your first paid month. (This is to prevent people from canceling before they make their first payment.)

■HafH plans eligible for discount
【HafH Traveling 1mth)】: 1 whole month access to hotels and guesthouses in our network. Spread your time over several facilities, or spend the whole month staying at one! At 50% off, the HafH Traveling 1mth plan comes down to ¥41,000!

【HafH Traveling 10d】:This plan gives you access to the HafH Network hotels and guesthouses for 10 days each month. At 40% off, HafH Traveling 10d plan comes down to ¥19,200!

【HafH Traveling 5d】:Get access to the HafH hotels and guesthouses for 5 days each month with this plan. At 30% off the regular price, you can be a HafH Traveling 5d member for ¥11,200!

■Eligibility
Anyone who has signed up to a paid HafH plan by 11:59pm on May 31, 2020.

■Sign up to HafH here
Official HafH Website: https://hafh.com

■Please note
・To be eligible for this discount, you need to have signed up to HafH by
11:59pm on May 31, 2020.
・The membership fee for June will be direct debited from your registered
credit card on June 1, 2020.
・You will still receive a discount even if you upgrade to a HafH plan of
higher value during June. Trial HafH, HafH Coworking, and HafH
Coliving plans are not eligible for this discount. 
・HafH has directly operated facilities in Tokyo, Fukuoka, and Nagasaki. If
you are intending to stay at any one of these facilities for a month or
more, please get in touch with us.
・This discount is for the month of June. The regular monthly price will be
charged from July 1, onwards.
Click here for enquiries
Stay in and work from private rooms at HafH to avoid crowded places!
HafH Fukuoka The LIFE (Fukuoka) / HafH Nagasaki Garden (Nagasaki) / Uminos Spa & Resort (Hiroshima) / Hotel Wright Style (Kagawa) / Guesthouse & Cafe SOY (Gifu) / Planetyze Hostel (Tokyo)
For those remote workers looking for a safer way to enjoy HafH during the current situation, we have created a list of facilities in our domestic network (within Japan) that offer private rooms. For most of our facilities, you will need to use HafH Coins in order to stay in a private room. How many HafH Coins you earn each month will depend on which HafH plan you're on. For more info, check out the link below.
List of HafH Facilities in Japan that offer private rooms
(You can check this list for up-to-date info on temporary closures during COVID-19)
The background to this campaign
The struggles of finding workspaces and suitable accommodation during the COVID-19 pandemic.
E.g. Japanese nationals who returned to Japan during the pandemic and are struggling to find housing
There are many Japanese nationals living long term overseas who have had to make an emergency trip back to Japan during coronavirus. Not knowing when they can return to their overseas homes, they have had to search for temporary residences and workspaces – many jumping from hotel to hotel, or net café to net café. 
(Pictured: A HafH Neighbor (member) who was forced to return to Japan from Thailand)

E.g. Foreigners in Japan unable to return to their countries
Many foreigners, including tourists, students, working holiday visa holders, etc., have found themselves stuck in Japan with no sign of being able to return to their home countries any time soon. Giving the current circumstances, domestic travel is of course also frowned upon, and many have found themselves stranded all across the country. The Japanese government is assisting with expiring visa issues, but unable to return home, many foreigners are struggling with accommodation matters.

E.g. Those who were already location independent (remote) workers
Those freelancers, sole proprietors, start-ups, etc. that usually rely on hotels and guesthouses to work and live from have certainly had a difficult time during COVID-19. The restriction on movement and temporary closure of many accommodation facilities has meant that quite a few of these remote workers have not only had a difficult time finding places to work from, but also in finding places to stay.

E.g. Those who find it difficult to work from home, and are in search of a place with Wi-Fi and power to work from
During COVID-19, people have found it quite difficult to work from their homes with many searching for alternative places to work from. This has given rise to hotel rooms being used at working spaces, with major online travel sites offering day packages for remote workers as well as consecutive stays.
In light of these circumstances brought about by the spread of COVID-19, HafH has decided to run this discount campaign to help support those struggling to find accommodation or workspaces.
「A work style that is not limited by location – the original meaning of remote work」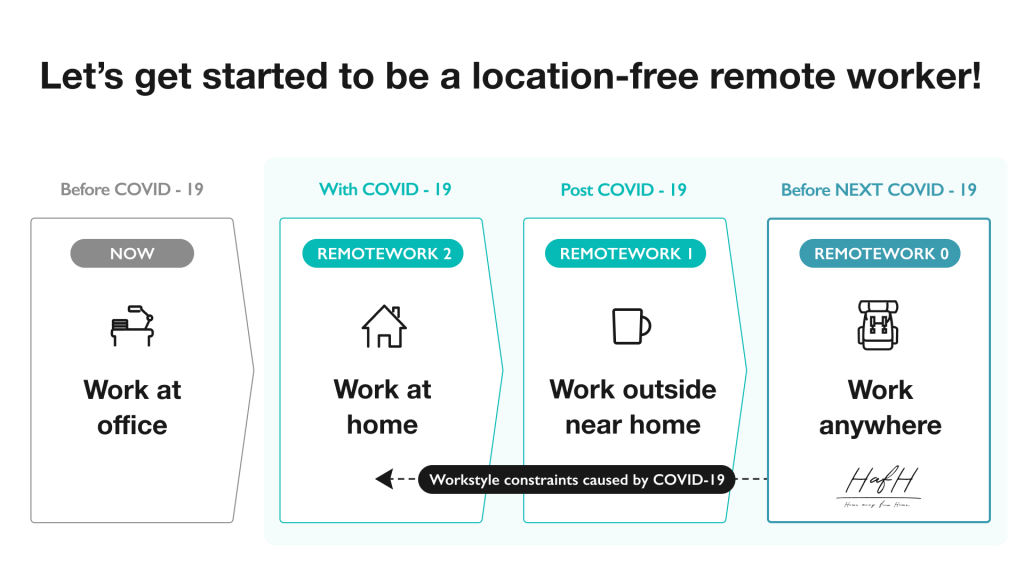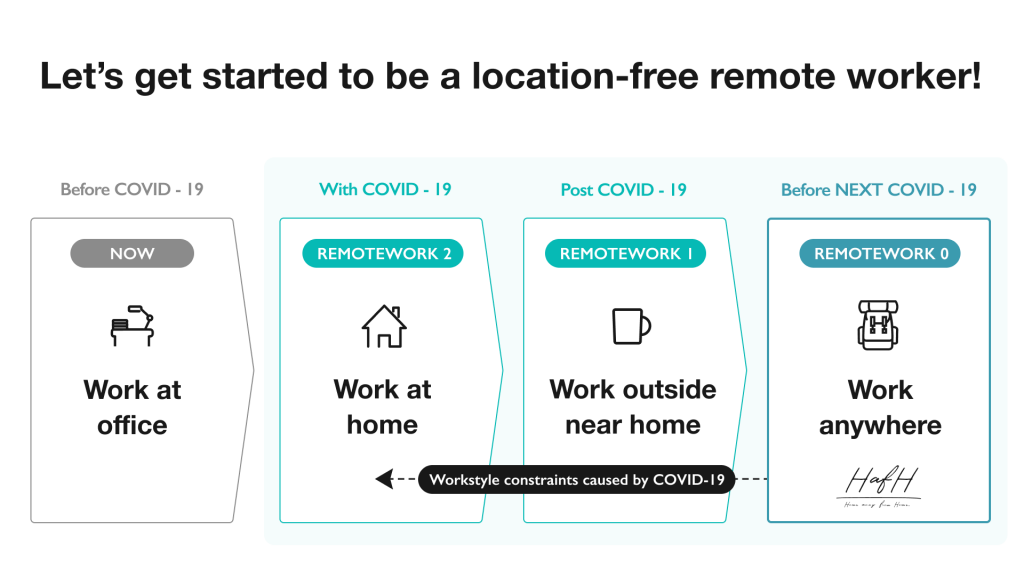 Office workers getting their first taste of remote work have been debating the pros and cons of this style of work even though what they're looking at is only one part of remote working. This trend is making us a little uneasy. Remote working is about being able to work without being dependent on location, and working outside of the company office is only one part of this. Also, those already working remotely before the spread of COVID-19 have had no choice but to work in one place due to travel restrictions, and there seems to be a lot of disregard for the setbacks remote workers are facing.  
Strangely, the topic of "workplace" has gained a lot of attention during the coronavirus outbreak, so it will be interesting to see whether Japan returns to the usual "working in the office" scenario after the current State of Emergency has been withdrawn, or whether our workplaces will evolve into a more "location independent" style. In the end, it's not up to companies to decide, it's up to each individual worker and their values. There is always the possibility of another pandemic occurring in the future. Preparing yourself as much as possible for whatever "work style crisis" comes next is up to the individual, and not the company. Now's the time to take advantage of this unique opportunity, and to turn a negative into a positive!
Click here for all enquiries.