New HafH Properties【July 2020】


More properties across Japan and around the world have joined the HafH Network this month!
We now have 301 properties located in 204 cities across 24 countries and regions!

As of July 30, the HafH Network has:
Properties in Japan: 186
Properties in other countries and regions: 115

Where are located in:
Number of cities in Japan: 134
Number of cities in other countries and regions: 70

You can find the full list of newly added properties below!



HafH has grown rapidly since we launched our service 1 year and 4 months ago.
HafH is now available right across SE Asia!
In April last year (2019), the HafH Network only consisted of 53 properties (46 in Japan and 7 in outside of Japan) and located in 7 countries and regions altogether. We have grown with increasing speed since then, and have continued to develop our "live where you want, when you want" service.

From this month, HafH is available in Ecuador and Brunei!
We've also established partnerships with 16 properties in 8 new cities in Japan, and with 9 properties in 6 new cities in other countries and regions. Plus, with the addition of Brunei, HafH Neighbors (members) now have access to accommodation in all ASEAN countries.

Here's a little look at how we've grown since our launch in April 2019.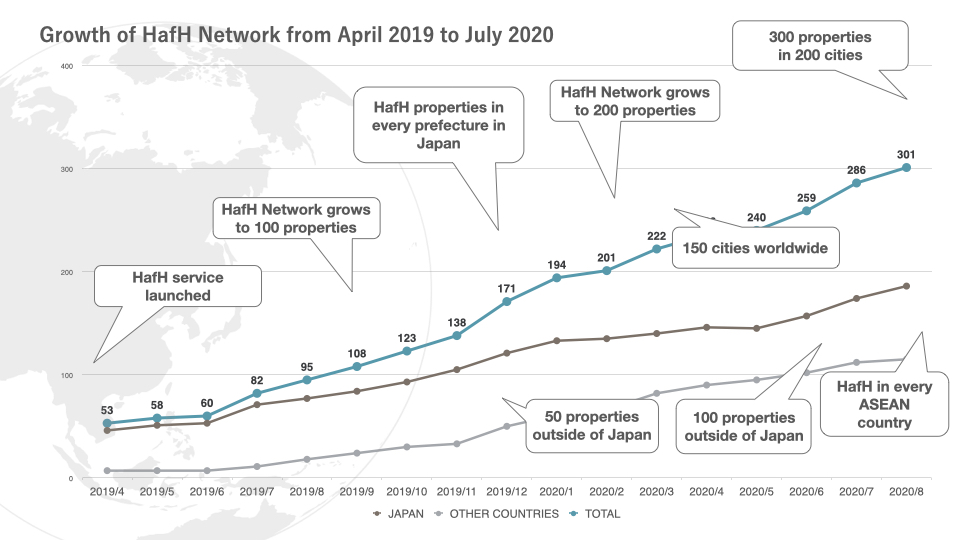 Countries & Regions you can use HafH
(As of July 30, 2020)
Asia
・Japan・Indonesia・South Korea・Cambodia・Singapore・Thailand・Taiwan・Philippines・Brunei・Vietnam・Malaysia・Myanmar・Laos


Oceania
・Australia

North America
・United States


Central & South America
・Ecuador ・Guatemala・Mexico・Peru


Europe
・Greece・Georgia・Spain


Africa
・Kenya・Tanzania


Words from KabuK Style CEO KJ Sunada: Our current strategy during the COVID-19 outbreak

While simply moving around has even been difficult during the COVID-19 pandemic, I'm extremely happy that we've achieved our goal of expanding into all ASEAN member countries. However, to meet our goal of having 500 properties around the world, not just in Asia , but also in Europe and elsewhere, we need to accelerate the expansion of our network quite a lot. It will be difficult to achieve.
While we steadily continue to grow our global network, we are currently focusing on diversifying our service through alliances and partnerships with domestic transport operators, as well as working with others to create and develop social infrastructure.

Workations and coliving are two things we at HafH have been promoting, and it seems that with companies having to go remote during the pandemic, these things have started to gain public attention. The Japanese government's Go To Travel campaign, which financially supports travel within Japan, has also led to futher membership growth.
While taking into account that now is not really the time to push travel, we will continue to expand the HafH Network, strive to improve the quality of our facilities, and continue to implement counter-COVID measures to provide safe and secure accommodation.



New Properties joining HafH this month!




Located in the Yanesen area, a part of Tokyo that still retains a lot of its Edo period character and charm. Hotel Graphy Nezu has a huge range of shared spaces; outdoor rooftop area, lounge, cafe, bar, and more!




Relax with hot springs and ocean panoramas on the scenic Hayama coastline! Make the most of Umino Hotel's luxurious cafe and workspace or strike up a conversation with locals at the Sand Bar!



Imagine listening to the sound of waterfalls while you work, before relaxing in a natural hot spring bath. Reenergize and revitalize yourself at this ryokan hotel encompassed by nature.



Sitting in the foothills of Mt Fuji, enjoy breathtaking Mt Fuji views and an extraordinary travel experience in an ordinary Japanese town at this carefully renovated hostel.



UmiOto is the perfect place to stay to make the most of Miyako Island's stunning beaches. All guest rooms are private, bright and cozy.



A beautiful lakeside resort nestled in a lush green valley in Miaoli, Taiwan. Enjoy the garden restaurant and the outdoor hot spring!


A grand Spanish style villa with its own pool, right across from the beach in Cherating. Cherating is a popular surfing destination in Malaysia.



Immerse yourself in the culture of Brunei together with guests from all over the world. Friendly staff and a great vibe is what makes this place a Home away from Home.

※You will need HafH Coins to stay in some rooms or properties in the HafH Network.


You can check out the other new properties joining HafH this month by clicking on the link below!

【JAPAN】


ZABUTTON HOSTEL & COFFEE SHOP / Minato City, Tokyo

CHILLULU COFFEE & HOSTEL / Yokohama, Kanagawa

Enoshima Guest House 134 / Fujisawa, Kanagawa

Okazaki Micro Hotel ANGLE / Okazaki, Aichi

FUJITAYA BnB / Kyoto, Kyoto

SIMA inn / Onomichi, Hiroshima

SINGAI CABIN / Onomichi, Hiroshima

Iikane Palette / Tagawa, Fukuoka

asobi-gokoro@aso / Aso City, Kumamoto

Yamada Bessou / Beppu, Oita

HOTEL KARAE / Karatsu, Saga


【JAPAN(16 properties added)】
Minato City, Tokyo・Yokohama, Kanagawa・Hayama, Kanagawa・Hakone, Kanagawa・Fujisawa, Kanagawa・Fuji Kawaguchiko, Yamanashi・Okazaki, Aichi・Kyoto, Kyoto・Onomichi, Hiroshima・Tagawa City, Fukuoka・Aso City, Kumamoto・Beppu, Oita・Karatsu, Saga・Miyako Island, Okinawa



【OTHER COUNTRIES & REGIONS】


eda co-living / Changhua, Taiwan

Bobooks / Chiayi, Taiwan

KINBA Guest House / Kinmen, Taiwan

Hotel Chasky Wasy Coliving / Cuenca, Ecuador

Hotel Chasky / Cuenca, Ecuador

New York City – Queens : Woodside / New York, USA


【Other Countries(9 properties added)】
TAIWAN: Miaoli, Changhua, Chiayi, Kinmen
ECUADOR: Cuenca
USA: New York
MALAYSIA: Pahang
BRUNEI: Gadong



▼Search for properties in the HafH Network here▼
▼HafH is on Instagram!▼
HafH | Global Coliving Network (@hafhglobal) • Instagram photos and videos


Making workations more fun and convenient! We are always on the lookout for new accommodation facilities to join us!
We are working on partnerships with accommodation facilities, including popular resorts, both in Japan and abroad, that can cater for workationers and remote workers.
Hotels, guesthouses, coliving facilities, etc. around the world who are able to cater and support digital nomads, remote workers, workationers can get in touch with us via the contact page on our website