DENIM HOSTEL float & the Town of Fluttering Indigo
Special discounted JR-WEST tickets to selected destinations in western Japan are available from April 1, 2021, and only for HafH members!
DENIM HOSTEL float is located in Kurashiki, Okayama the home of denim/jeans in Japan. Okayama is included in the JR-WEST promotion, so be sure to apply for a discounted ticket here* if you want to visit DENIM HOSTEL float.
*The application is only available for HafH members, and only available in Japanese language.
DENIM HOSTEL float
Kurashiki, the home of denim in Japan

Kurashiki is a place worth visiting in itself, but its location makes getting to other areas like Shikoku and the islands of the Seto Inland Sea really easy. Denim brand ITONAMI (formerly EVERY DENIM) opened their hostel and café inside their store building in September 2019.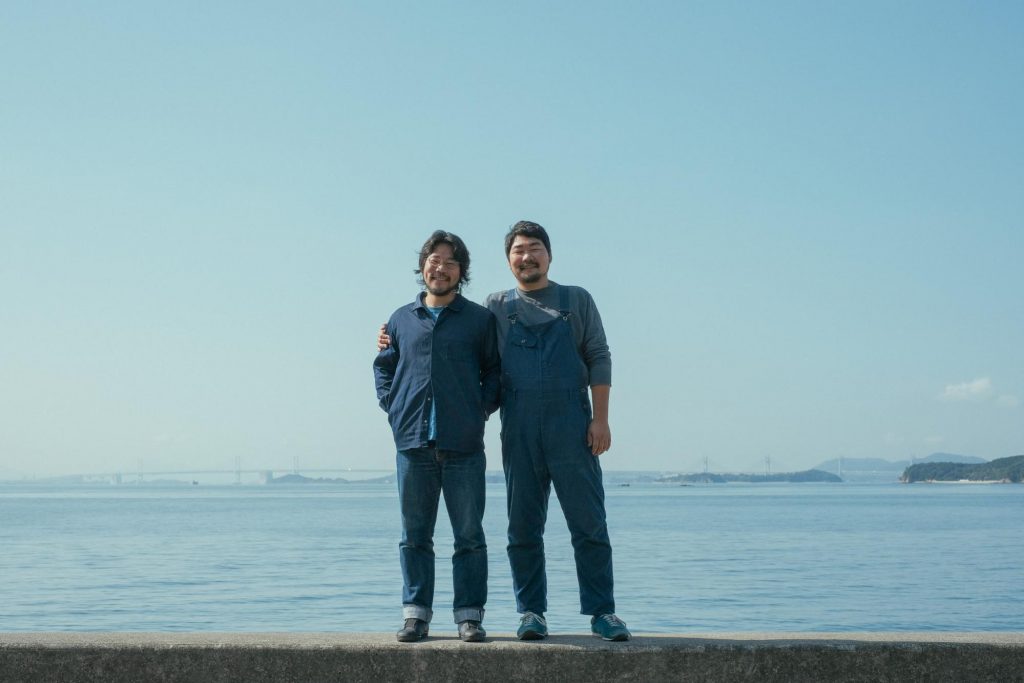 Here's a quick word from the owners on why they opened the hostel, and a few recommendations on enjoying the town.


Finishing our campervan trip around all 47 prefectures of Japan
We didn't have a physical store for our denim brand ITONAMI, so we traveled around all 47 prefectures in Japan in our campervan selling our product. During our time traveling across the country, we had the opportunity to meet many craftsmen from all different backgrounds like food, clothing, housing, etc. After learning about their passion for manufacturing and seeing their efforts in involving and working together with the local community, we decided to set up our base in Kojima, Kurashiki City; a place where jeans are produced that also has spectacular views of the Seto Inland Sea.


All of the rooms at DENIM HOSTEL float have a view of the islands dotted across the Seto Inland Sea. Visit with your family or partner and just enjoy spending some quality time together. Or maybe it's time to get away from the hustle and bustle of everyday life and give yourself some "me time." No matter your reason for coming, enjoy the breathtaking views of the Seto Inland Sea and experience the extraordinary charm of Kojima, Kurashiki.
Right after the sun dips below the horizon is Golden Hour! It's almost as if the sky is telling us about the passage and flow of time through a gradation of colors. Each sunset offers something a little different; it's a beautiful gift from nature.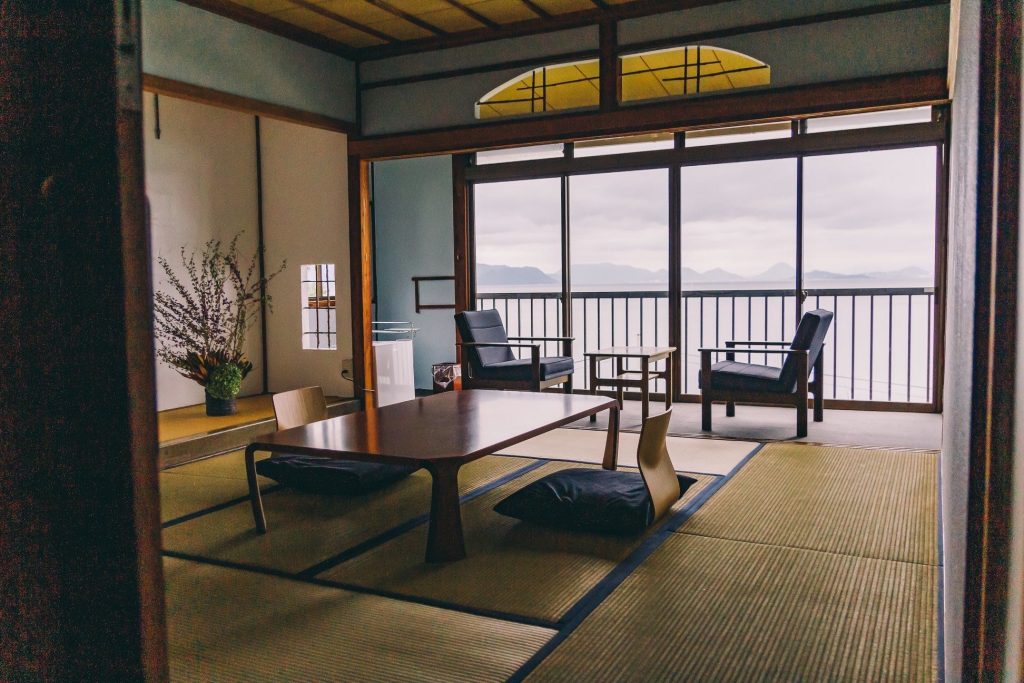 As we are a denim brand, we wanted to feature denim in our hostel's interior design. The wallpaper, tatami mat edging, sofas, chairs, and sliding doors are all made of, or feature, denim. Looking out from the hostel rooms across the Seto Inland Sea, the indigo denim elements just tie in so nicely with the blue sea.


The ocean and mountains offer plenty of activities!
It's not all about the sea at DENIM HOSTEL float. We also have mountains!
Mt Ojigatake rises out from within the Setonaikai National Park area. If you're lucky and weather permits, you can go paragliding over the Seto Inland Sea. SUP (stand-up paddle boards) and BBQ sets are available to rent in the area so you can have even more fun at the beach. Afterwards, you can hike up Mt Ojigatake and then stop at the cafe that sits up on the peak.

Fukuen Project: Breathe new life into your old beloved clothes
It was once a much-loved, much worn item of clothing…but not so much anymore. Yet, you still can't bear to part with it. We all have items of clothing that keep escaping the purge, even though we haven't worn them for a long time. Fukuen is a service that gives you a chance to fall in love with that item of clothing all over again, by bringing it back to life with indigo dye. 

Originally, the fukuen service where you send in an item of clothing you want to fukuen, along with your memories of that item of clothing, and then we dye it with indigo and return it to the sender.
We've decided to turn this into an experience so that you can breathe new life into your clothes with your own hands.
By wearing the clothes we have for as long as possible, we can change our consumption habits and live more sustainably.
Come and stay with us in Kojima, the city of denim, and use indigo to bring an old favorite item of clothing back to life with your own hands.
Booking & Overview
How to participate: When making your reservation to stay at DENIM HOSTEL float through HafH, use the chat function to let DENIM HOSTEL know that you want to try the indigo dyeing experience. Please be sure to message at least a week before the date you want to do indigo dyeing.
Payment for this activity should be paid directly to DENIM HOTEL float on site.
Available between: May 1 〜 June 30, 2021

Time required: About an hour

Price: ¥3,000 (tax included)

Details: This is an experience to re-dye your own clothes using indigo dye.

What to bring: A beloved item of clothing you wish to re-dye
ーPlant-based fiber: cotton, linen, etc.
ーRegenerated cellulose fiber: rayon, cupro, tencel/lyocell, etc.
ーNatural protein fiber: silks, etc.
※Items containing a large percentage of synthetic fibers like polyester, polyurethane, nylon, acrylic cannot be dyed.
※Wool can be dyed, but may cause the item to shrink slightly.
※Depending on the timing of your reservation, the experience may not be available, so please be sure to confirm with DENIM HOSTEL float beforehand. For further details about the experience, please ask DENIM HOSTEL float directly via the chat function on your MY PAGE.



You can use the special HafH x JR West train ticket to get to Kojima Station, the closest station to DENIM HOSTEL float. Only 3,700 yen from Shin-Osaka Station, and 7,300 yen from Hakata Station!
(The trip from Shin-Osaka Station would normally cost ¥6,720, and ¥12,320 from Hakata Station)
Read more about DENIM HOSTEL float (and make a booking from here)

Special offer for HafH Neighbors!
Up to 40% OFF JR-West Shinkansen and limited express train tickets! Workation around west Japan with JR-West and HafH!
Our second #HafHWorkation collab with JR West will run until the end of June!
HafH Neighbors (members) on a HafH Traveling (5d) or higher plan are eligible to apply. Get up to 40% off on selected JR-West Shinkansen or limited express train routes (open seating cars)!
Furthermore, those who purchase special JR-West x HafH campaign tickets can receive further discounts on car rental from main stations listed in the campaign. E.g. "S class" cars can be rented for as little as ¥3,900 for 24 hours.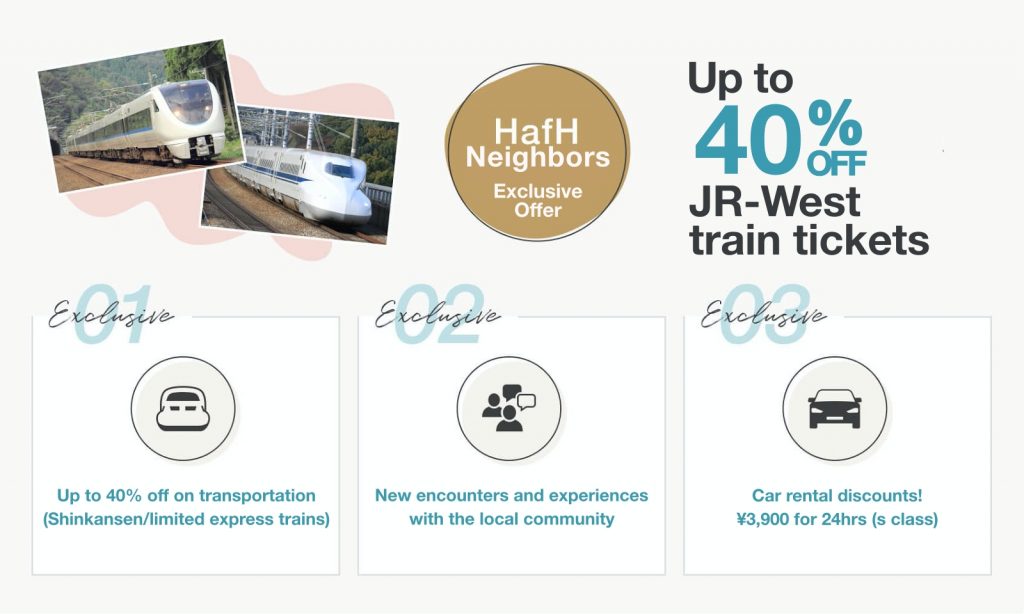 *Information and websites only available in Japanese this time.
▼Click below for more details and to apply (Japanese language only)▼
HafH x JR-WEST Promo – #HafHWorkation