HafH Property Owner's Voice – Yasaka Tower Mokusei-an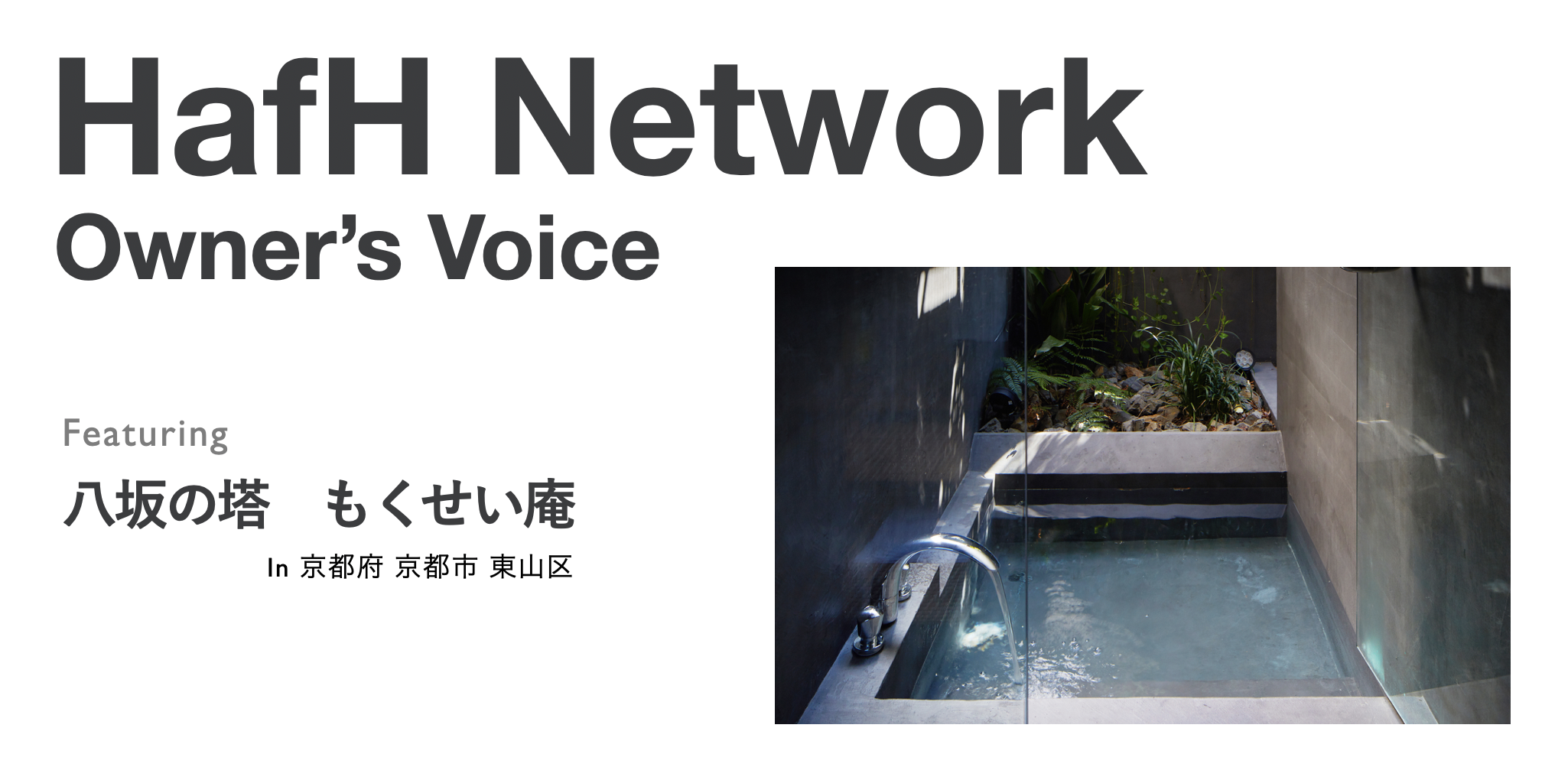 About HafH Property Owner's Voice
HafH Property Owner's Voice is an article written by the owner or staff of a property in HafH's global network, as a way to introduce their features and characteristics of their accommodation facility, and also their local area or region.
In this edition, we'll here from the owner of Yasaka Tower Mokusei-an, in Kyoto, Yoshinao Hayashi.



Hi! Welcome to Yasaka Tower Mokusei-an.
My name is Yoshinao Hayashi, and I am the owner of Yasaka Tower Mokusei-an.
Yasaka Tower Mokusei-an is a renovated machiya (traditional style townhouse) in Kyoto that can accommodate up to 4 people at a time. When you book Yasaka Tower Mokusei-an, you get the entire property to yourself. With a maximum of 4 guests at any one time, you are able to bring another 3 guests with you (even if they are not members of HafH)!


Yasaka Tower Mokusei-an
https://www.hafh.com/properties/371


Yasaka Mokusei-an sits in a prime location, giving you immediate access to all of Kyoto's iconic, must-see spots. Of these, Yasaka-no-Tou (30 seconds away by foot), Kiyomizu temple (10 minutes by foot), and Kodaiji temple (5 minutes by foot) are definitely worth the visit. Yasaka shrine, Chion-in, and Pontocho are also all within walking distance!


When I came across the 70-year-old building that was originally at this location, it was love at first sight. Directed by Mr. Shigenori Uoya*, a renowned Kyoto-based architect, and constructed by Kisho*, we led a large-scale renovation of the building. By the end of 2018, we had completed renovations and were ready to introduce Mokusei-an to the world.

*external links are in Japanese language only.


Through the company I work for, I simultaneously led renovations at SOWAKA, a 100 year old building. Here, I also worked with Mr.Uoya and Kisho.

(SOWAKA is also a part of the HafH Network.)

Luxury hotel SOWAKA
https://www.hafh.com/properties/414



A comfy space where traditional meets modernity
Now, I would like to introduce the interior of the machiya. We wanted to preserve the ambience of the original building, while also incorporating some modern elements. We have combined these elements seamlessly to create a traditional Japan aesthetic with all modern comforts you need for a pleasant stay.
Mokusei-an is fully equipped to make your stay, however long, extremely comfortable: There is a full kitchen, washer/dryer, and utensils available at your disposal. Recently, we've even had guests stay for up to a month.
The bedroom and tatami-room (Japanese-style room), is located on the second floor. The tatami-room can fit up to 3 futons (traditional mattresses).
Both the sign outside and artwork displayed on the wall are created by my mother, a native of Wakayama prefecture.
My grandfather was from Wakayama, and my grandmother from Tokyo. Thus, during my childhood I often visited Kyoto, which is geographically situated between Wakayama and Tokyo. One of my most prominent memories associated with Kyoto is frequenting Chion-in for New Year's Eve.

This concludes the stories that make up Yasaka-no-Tou Mokusei-an.


Gaze up at the night sky in the gorgeous outdoor bath
Enjoy watching the stars outdoors as you relax in our in-ground bath. This outdoor bath is the pride of Mokusei-an!
(The bath we built here at Mokusei-an is also in use at SOWAKA.)
Excellent location surrounded by traditional Kyoto scenery
When you head up to the second floor at night, you can see a lit up Yasaka-no-Tou. With a glass of wine in hand, please enjoy a private viewing of one of Kyoto's symbolic temples!
The roads to Kiyomizu temple, Yasaka road, Ninenzaka, and Sannenzaka, are lined with a plethora of souvenir and sweets shops. However, if you step inside an alley on one of these bustling streets, you will immediately be transported to a tranquil and still world.
If you wish to avoid the crowds, I highly recommend that you venture over to Ninenzaka and Sannenzaka at night or in the early morning. At these times, you will be able to have the streets all to yourself


By the way, we even get great reviews from international travelers!
・Review from an Australian guest
"Location Location Location! Stunning surrounds, in the heart of tradtional Kyoto."


・Review from a US guest
"Don't think twice, book it. Fantastic little property. Slice of authentic Japan, with the addition of an outdoor bath which was awesome. Perfect location."



Yasaka Tower Mokusei-an is a machiya filled with these stories, and the charm of Kyoto!

If you ever have the chance to come to Kyoto, please bring your friends or family and come stay with us!