HafH Coliving Project Round 3
Since April 2020, HafH has been running a Coliving Project where we look for people to become residents at our directly run coliving properties for 3 months at a time. We received such great feedback from round 1 and 2 of our HafH Coliving Project, that we've decided to run a 3rd round.
Applications to be a coliving resident for round 3 (up to 3 months between Oct to Nov, 2020) are now open.
Those who move in by September 30, 2020 and reside at one of our four HafH properties (listed below) for the full three months will receive 50% off the rent amount for the third month of the coliving project as a campaign benefit.
(*Please be aware that those who are already on a HafH Coliving Plan are not applicable for the Coliving Campaign.)
Furthermore, for the first time, HafH is also introducing a refer-a-friend benefit scheme. For every person you refer who becomes an actual resident at HafH, you will receive a ¥5,000 Amazon gift card! To be eligible, you must have resided at one of HafH's directly operated properties during HafH Coliving Project Round 2 or Round 3, or have lived at one of HafH's directly operated properties for at least 2 months prior to October 2020.
*There is no limit to the number of referrals you can make.
We are also looking for a Community Manager for HafH Nagasaki Garden during the Round 3 of the Coliving Project. The role will include welcoming HafH members, cleaning the property, and assisting with general operation of the property while living at Garden.
You will also be involved in helping to enlivening the HafH Community and the region.
*This is a paid position. Please contact us if you're interested.
Those interested in accommodation facility operation and community building are very welcome to apply!


5 Benefits of being a part of the HafH Coliving Project!
・Apply and be select by September 30, and your rent amount for the 3rd month of the Coliving Project will be cut in half!
・For every person you introduce to HafH who becomes a resident, you receive a ¥5,000 Amazon gift card. There is no limit on how many you can introduce.
・This is your chance to meet other remote workers from across the country. Who knows what opportunities await!
・A tonne of opportunities to meet all the interesting locals who gather at HafH.
・You don't have to just live at HafH! You can apply for the Community Manager position as well!

Click the link below to apply for round 3 of the HafH Coliving Project
HafH Coliving Project Entry Form


#workfromHafH
Coinciding with the global pandemic, we've seen a huge rise in the number of people working remotely.
As a precaution to the threat of COVID-19, many people were all of a sudden confronted with a new style of working that they just weren't prepared for, leaving some confused in the initial stages. Now, as we've become more accustomed to working remotely, more and more people have come to realise that there really isn't a need for them to have to go into the office to do their job.
While many companies have decided to adapt and continue to work remotely, others have decided to return to the office and the traditional style of working.
While remote work has been used as a precautionary method in fighting the spread of COVID-19, the essence of remote work is actually about allowing the individual to create a workstyle that suits them, and allows them to choose when and where to work from.
Now that we know we can work from home, why not get out of your house for the next 3 months, and have a change of scenery!
A new way to enjoy working remotely, and so many possible opportunities and encounters await!
HafH Coliving Project Entry Form


Coliving Project Plan Options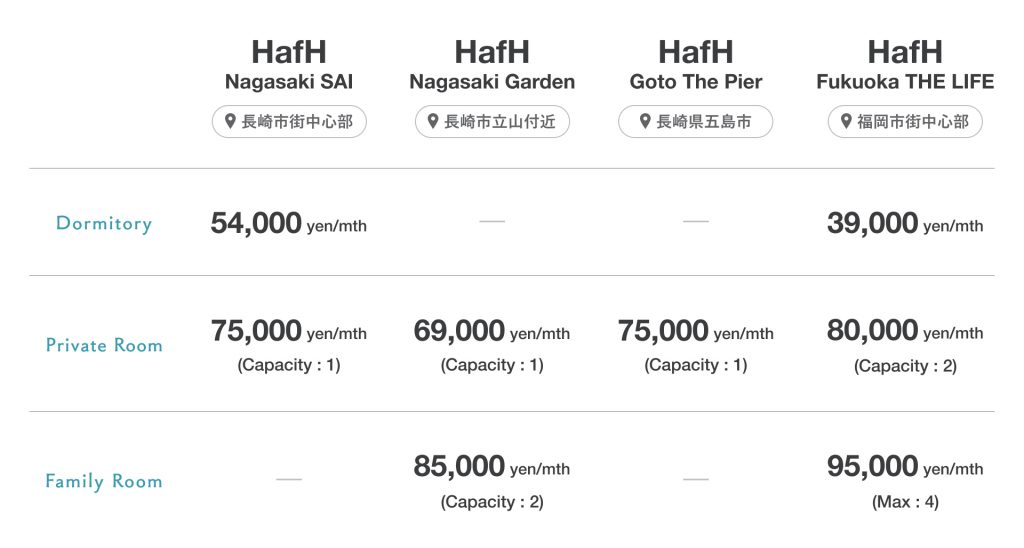 ※Maximum number of tenants per room and plan type as listed above. For each additional tenant you bring with you, an additional ¥5,000 will be charged.
※Remember that your 3rd month is 50% off.


Keep referring friends to reap the benefits!
◆Who is eligible?
To be eligible, you must have resided at one of HafH's directly operated properties during HafH Coliving Project Round 2 or Round 3, or have lived at one of HafH's directly operated properties for at least 2 months prior to October 2020.
– Those moving in to HafH during【Round 3】
If you refer a friend who becomes a resident at HafH, you can receive a further ¥5,000 off your rent amount in your 3rd month.


– Previous HafH residents & Coliving Project Round 2 residents
If you refer a friend who becomes a resident at HafH, we will present you with an Amazon gift card worth ¥5,000.

※Important Information
Please be aware that those residing at HafH during Round 3 of the HafH Coliving Project who move out before paying their rent for Decemeber 2020 will unfortunately be ineligible for refer-a-friend benefits even if their referee becomes a resident.

◆How to refer a friend
Please use the dedicated refer-a-friend form
(HafH Refer-a-friend Form)
※You must use the above form to refer-a-friend. Referral by word of mouth or social media, etc., will unfortunately not be counted. If a refer-a-friend form hasn't been lodged before your referee becomes a resident at HafH, then the referral becomes void.


HafH Nagasaki Garden Community Manager Wanted!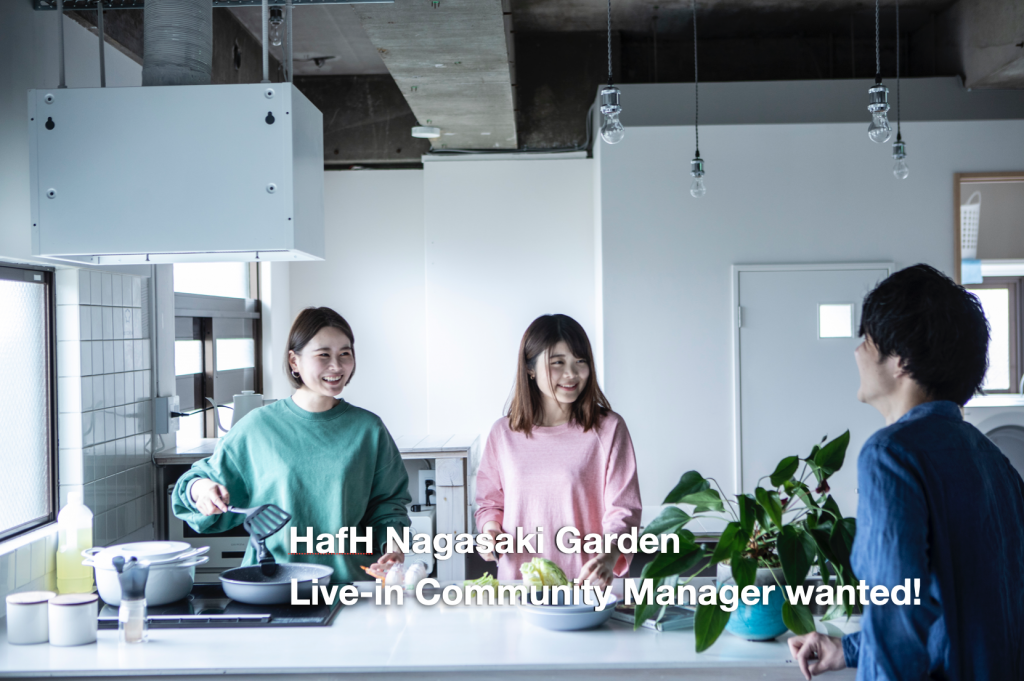 We are looking for a live-in community manager at HafH Nagasaki Garden. For 3 months during the Coliving Project, the community manager will help build a strong community among the other residents and act as a reception desk for HafH Neighbors (members).


【What we're looking for in a Community Manager?】
・Someone who can reside at HafH Nagasaki Garden for 3 or more months from Oct 1, 2020.
・We don't care about things like age, gender, nationality, etc.
※Those 18 years of age or under will need written permission from a parent or legal guardian.


【Hourly wage/ Employment type/ Benefits】
・Hourly wage: ¥850、Approx. 20 to 25 hours/week
・Part-time
・Social Insurance (employment insurance is also available)


【Work description】
・Communicate with locals and guests/residents
・Event planning
・Operational support (laundry, cleaning, etc.)
・Procurement of household essentials
・Be a help desk/consultant for residents etc


【Employment period】
・At least 3 months – after 3 months, we can discuss further employment based on what you want to do


【Application period】
・September 3, 2020 ~ until a suitable candidate has been found


【How to apply for the position】
Please apply by completing the Coliving Project entry form on the link below and letting us know your intention to apply for the position in the "Other/Your Question" section at the bottom of the form.

HafH Coliving Project Entry Form


About our directly operated HafH properties
Applicants for the HafH Coliving Project can choose from our 4 directly operated properties in Kyushu (2 in Nagasaki City, 1 in Goto City, 1 in Fukuoka City).
Here's a quick look at the features and facilities at each property.


HafH Nagasaki SAI
Located in the heart of Nagasaki City, and within walking distance of some of the city's major attractions, like Meganebashi (Spectacles Bridge), Dejima, and Chinatown.
HafH Café is located on the first floor. Come here for a great cup of coffee made by our trained baristas and enjoy a healthy breakfast.
The second floor is a coworking space, complete with high-speed Wi-Fi, and plenty of power outlets. Local freelancers, university students, etc use out coworking space, and a range of events are held here too. You'll have a lot of opportunities to make acquaintances and become a part of the local Nagasaki community.
Finally, on the third floor is the coliving space. Here you'll find a spacious living area, including a balcony, a kitchen with everything you need. This is where travelers and residents at HafH get to interact.
HafH Nagasaki SAI
ADDRESS: 5-21 Furukawamachi, Nagasaki-shi, Nagasaki-ken
TEL: 095-818-8181


HafH Nagasaki Garden
Garden is a Japanese-style coliving space made by renovating an old Japanese house on a hill that overlooks a vast section of Nagasaki City. Enjoy the quiet mountains of Nagasaki City during the day, and the breathtaking night view of the city in the evening!
The Japanese-style tatami coworking space will help you leave the craziness of the big cities behind you and help you relax so you can focus and be more productive. And, when you need a breather, head outside into the spacious garden area. Watching the surrounding mountains change from green to gold as summer gives way to autumn is just one more pleasure that HafH Nagasaki Garden has to offer.
All bedrooms at HafH Nagasaki Garden are private rooms. While it is located on top of a very big hill, there is a Family Mart only one minute walk away!

Make the most of Nagasaki's laid-back vibe, and use this time to find a lifestyle that works for you.
HafH Nagasaki Garden
ADDRESS: 5-35, Nishiyama honmachi, Nagasaki-city, Nagasaki Prefecture
TEL: 095-818-8181 *Calls through to HafH Nagasaki SAI


HafH Goto The Pier
HafH Goto THE PIER is located in Goto City in the Goto Archipelago – part of Nagasaki Prefecture's Outer Islands, and at Japan's westernmost point. THE PIER was so popular during Round 1 & 2 of HafH Coliving Project, that it booked out both times immediately after announcing that we were accepting applications!
Goto not only has some of the most beautiful beaches in Japan, it has also seen a huge population growth, with about 200 people in the space of a year, move to the island. If you want to experience island living in Japan, this is your chance!
You can meet and interact with Goto locals in the coworking space/ café on the first (ground) floor which is located inside SERENDIP HOTEL GOTO. Events are often held here, which gives you a chance to meet locals and make some new friends!
If you take the scenic drive to one of the many stunning beaches, you could even try working right on the beach – like those influencers do! Swim season is already over, but that means less crowds to spoil your view!
HafH Goto The Pier
ADDRESS: 2F, 1-7-12, Bukeyashiki, Goto, Nagasaki, Japan
TEL: 095-818-8181 *Calls through to HafH Nagasaki SAI


HafH Fukuoka THE LIFE
HafH Fukuoka THE LIFE is within walking distance of Hakata Station, is right around the corner from one of Fukuoka's most famous shopping malls Canal City, and is right next door to a popular sauna called Wellbe Fukuoka!
Tenjin and Nakasu are also within walking distance.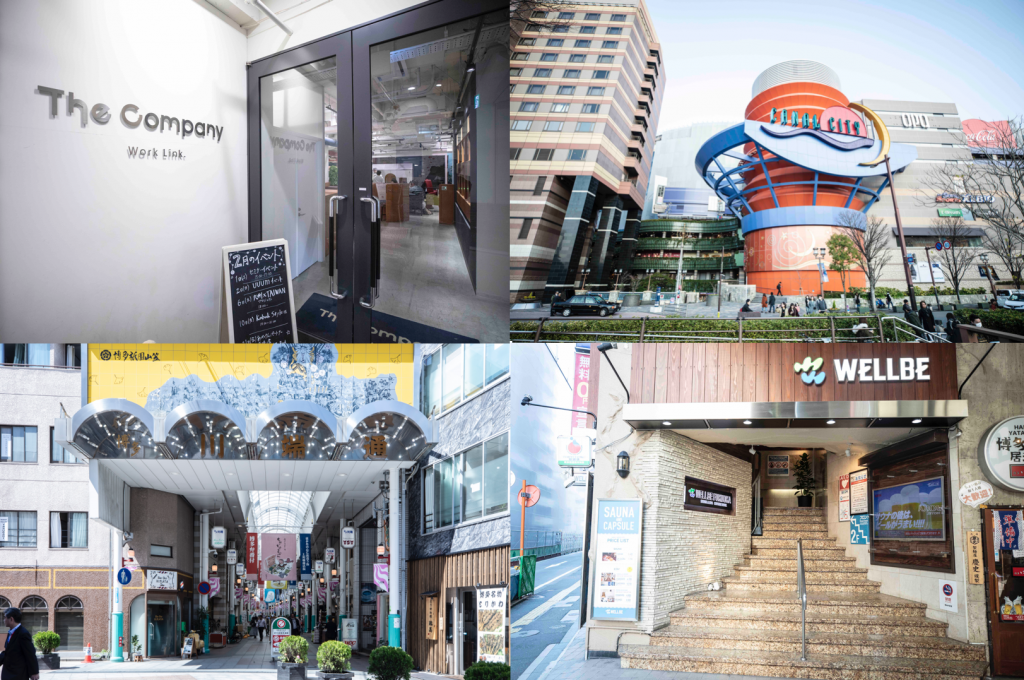 On the first (ground) floor, you'll find our café and lounge bar that residents and guests have 24 hour access to, so you can use this space to whip your laptop out and get some work done. Come down for breakfast and enjoy a cup of freshly brewed house coffee.
At night, the café switches over to bar mode! Fukuoka locals and residents/guests can all hang out here and make friends over a beer or cocktail!
Residents at HafH Fukuoka THE LIFE can get discounted access to coworking space "The Company" which is in the connecting building, and also get access to our rental bicycle service for ¥4,000/month. Fukuoka City is relatively flat for a Japanese city, so these stylish bicycles are a fantastic way to get around and explore the town. on these stylish bicycles is a great option ! It certainly beats having to catch crowded trains during peak hours!
HafH Fukuoka THE LIFE
ADDRESS: Daiichi Prince Building, 8-13 Gionmachi, Hakata-ku, Fukuoka City, Fukuoka
TEL: 092-292-1070


Apply for the HafH Coliving Project Round 3 here
HafH Coliving Project entry form


【Enquiries】
For enquiries regarding becoming a resident at HafH, please fill out the direct enquiry form here
Contact Person: Haruka


【After the application period】
・An interview will take place during September (Online interviews OK)
・Communication between selected residents will begin late September
・Moving in to HafH will start from October 1