HafH Nagasaki Coworking Plan Renewed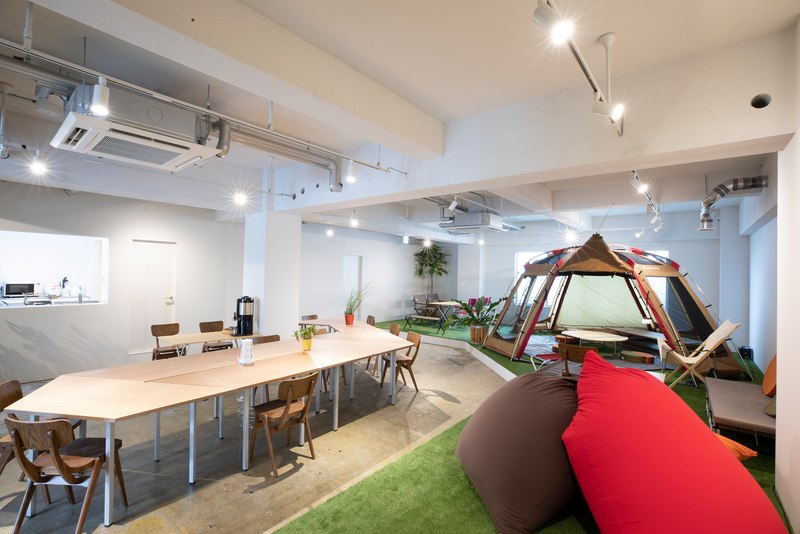 As of May 1st, the HafH Coworking plan at HafH Nagasaki has been revised and renewed. To make HafH Nagasaki a more interesting place that is attractive to a diverse range of people, we've made a few changes to member plans and benefits.
Making HafH Nagasaki a place for the forward thinkers to gather and connect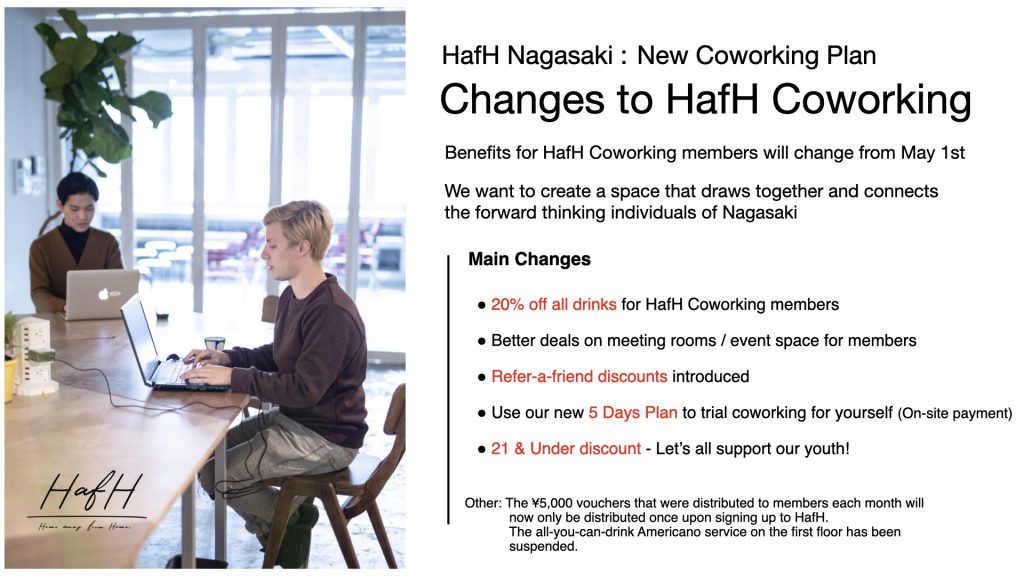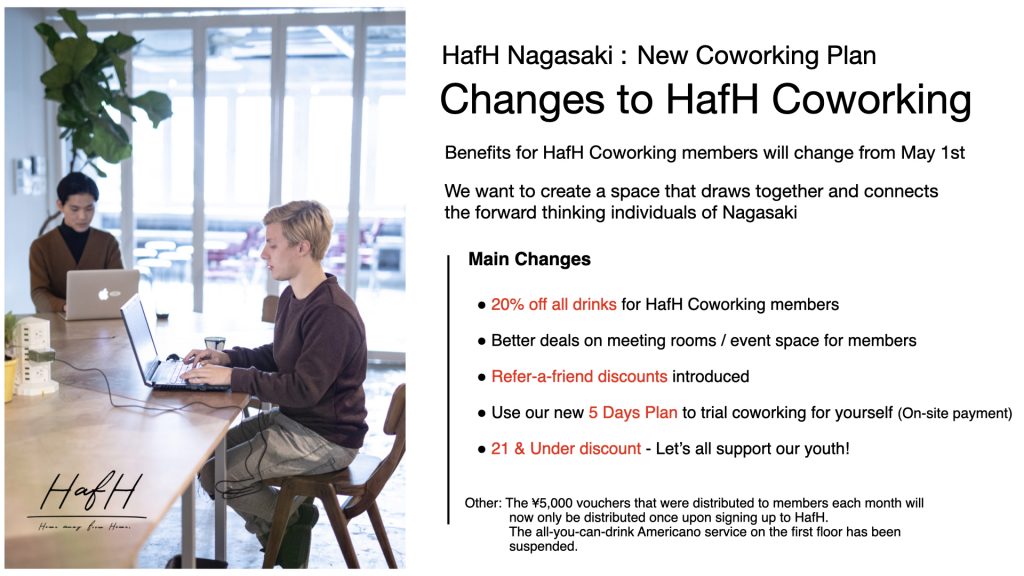 About the changes
If you become a HafH Nagasaki Coworking member, you will be eligible for the following 3 member benefits.

① 20% off all drinks at HafH Cafe & BAR. Enjoy a freshly brewed coffee to help you power through some work, or have some icy cold beers and delicious cocktails while getting to know other HafH Coworking members.
Make the most of the member discount and enjoy the drink menu at HafH Café & Bar however you like!

② Better value for money on meeting room hire and joining in HafH events! There are now no added fees for additional persons when hiring out meeting rooms, and participation in events run by HafH is free. We are hoping to make it even easier for members to interact and connect.

③ We have introduced a Refer-a-friend Discount! Members can bring a friend to our coworking space for one hour free of charge. Bring a partner or family member and make the most of our great coworking facilities. Furthermore, if you introduce a friend to HafH who then signs up as a paid member, you will receive a ¥3,000 voucher to use at HafH Nagasaki!

【Please Note】
・The ¥5,000 vouchers that were being distributed to members each month have been suspended, and will only be issued once per member upon signing up to HafH.
・The bottomless coffee service on the first floor has been suspended.
New HafH Coworking plans!
We are excited to announce that we have two new Coworking membership plans available from May 1, 2020.
5 Days membership plan
As the plan name conveys, this membership gives you 5 days of access to our coworking facilities per month. One-off full-day access to HafH's coworking facilities normally costs ¥2,000, but this plan gives you 5 days' access for ¥5,000, coming in at half the price of 5x one-off days. If you're new to coworking and looking to give it a try, our 5 Days membership is your answer!
U21 Futures Discount
As a contribution to our local society, we are offering those who are 21 or under unlimited access to HafH Nagasaki's coworking spaces for the price of a 5 Day plan. (Available for 6 months only) HafH Nagasaki hopes to help support the dreams of our youth.

The new list of HafH Nagasaki Coworking plans are as follows: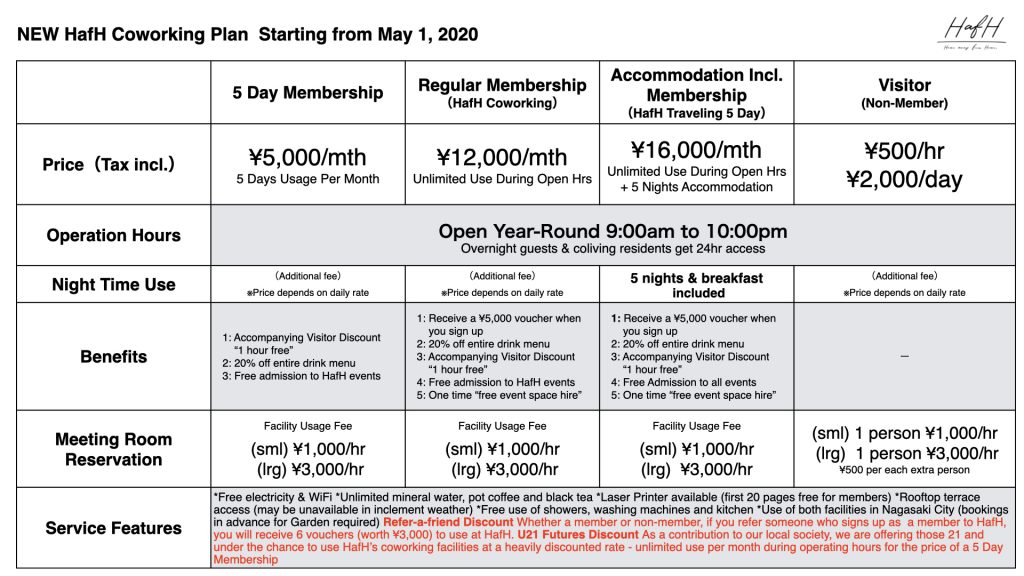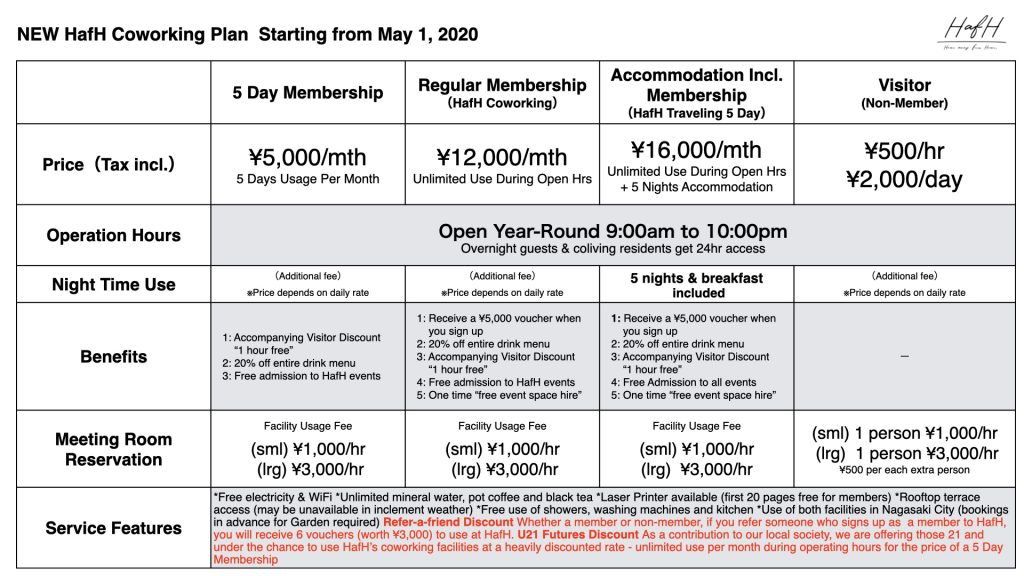 Get even more discounts at HafH Cafe & Bar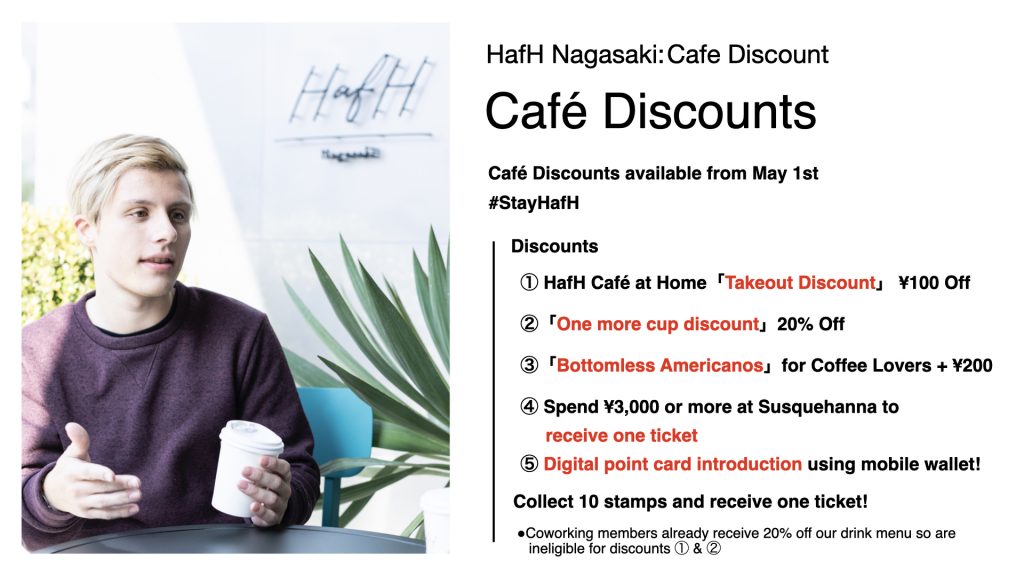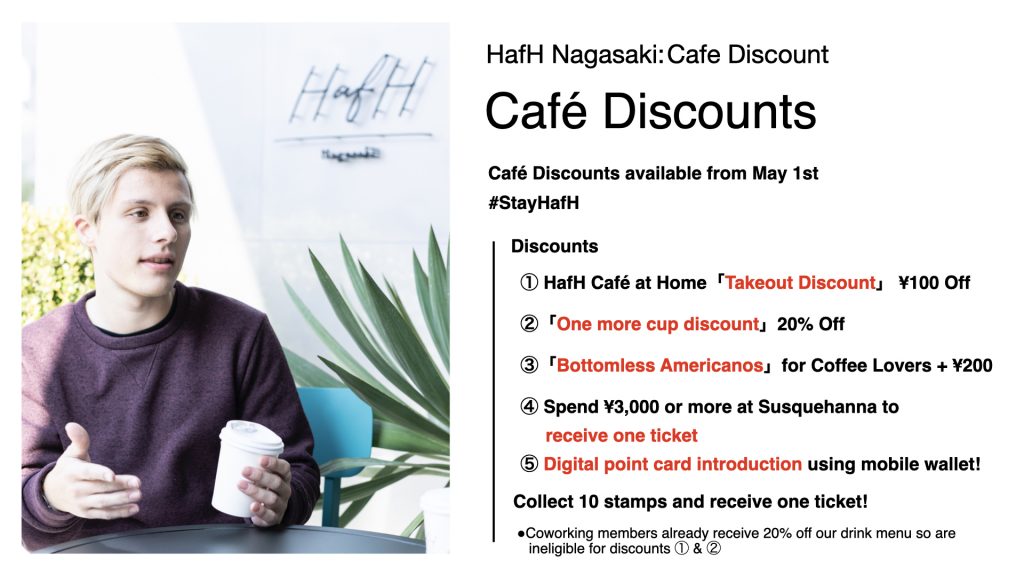 So that members can have an even more comfortable coworking experience at our HafH Cafe & Bar, we are introducing a new discount system for the café floor from May 1st.
About HafH Cafe Discounts
The new discount system is as displayed in the picture above. In addition to the pre-existing "takeaway discount," we're now offering 20% off refills (even if it's a different drink), and for an extra ¥200 you can make your Americano a bottomless one. HafH Cafe & Bar is fitted with high-speed Wi-Fi and power outlets, so feel free to study or work inside the café too!
We're also introducing a mobile wallet enabled digital stamp card! Collect 10 stamps to receive a HafH voucher that you can swap for drinks or breakfast! To find out how to use the stamp card, ask our friendly staff in-store.
Furthermore, you can also earn HafH vouchers by spending ¥3,000 or more at select shop SUSQUEHANNA, located next door to HafH Cafe & Bar on the first floor.

That's all for the changes to HafH Nagasaki's coworking plan. We look forward to your continued support.
HafH Nagasaki Coworking Space
① HafH Nagasaki SAI
〒850-0851
5-21 Furukawa-machi, Nagasaki-shi, Nagasaki-ken
TEL: 095-818-8181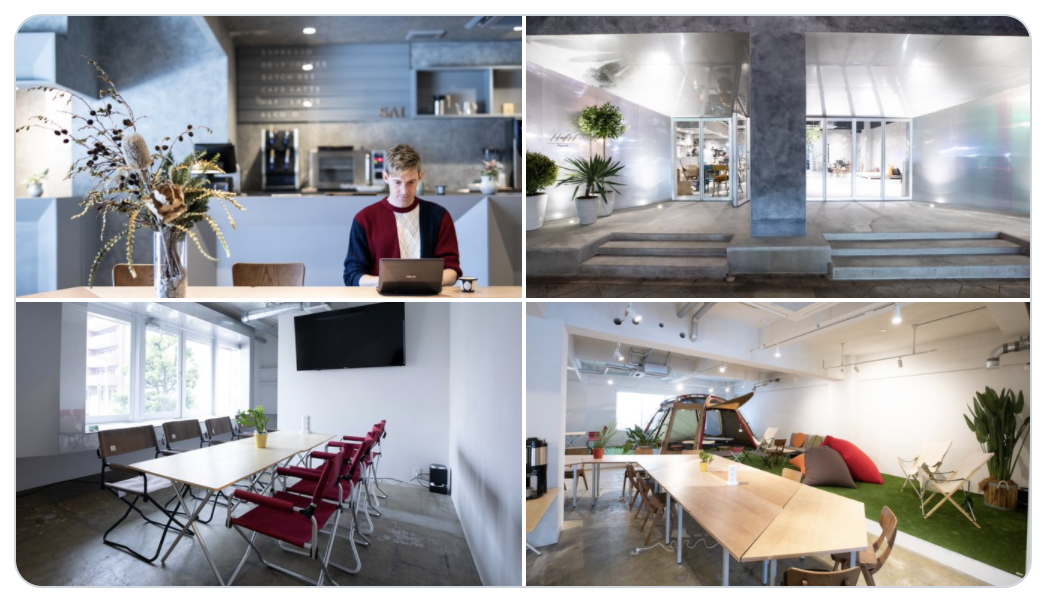 https://goo.gl/maps/aCv1LUDc6tWcBJL57
② HafH Nagasaki Garden 
〒850-0005
5-35 Nishiyama Honcho, Nagasaki-shi, Nagasaki-ken
TEL: 095-818-8181
(Tel. no. calls through to HafH Nagasaki SAI. Bookings in advance are required to use the coworking space at Garden.)